Landscape Contractors
Expert Landscape Contractors in the Bay Area
Keeping Your San Jose Commercial Property in Top Shape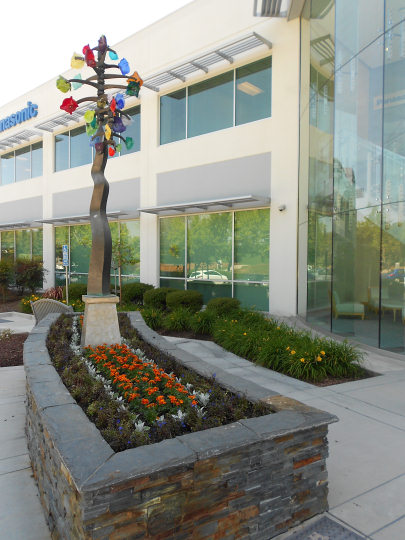 Creating and maintaining curb appeal for your premises is easy with Petalon's landscaping expertise. We provide comprehensive services to take care of new installations, renovations, weekly garden maintenance, seasonal planting and integrated pest management. Green initiatives like sustainable gardening and water-efficient irrigation systems have helped many of our clients reduce their expenses on utilities and maintenance. Customers across San Jose and the Bay Area rely on our experienced landscape contractors to make their properties stand out.
The populous Bay Area which runs from San Francisco to San Jose (the heart of Silicon Valley) is best known for its high-tech industries, rich culture and an affluent lifestyle. The area is home to more than 7 million people. Tremendous growth in the financial and technological sectors has contributed to a vibrant and booming economy. With the second highest concentration of Fortune 500 companies in the United States, the region attracts top talent from around the country while providing well-paying jobs for residents.
Despite its urban feel, the Bay Area is one of California's most important ecological habitats and supports numerous endangered species. There are 11 national parks and plenty of open spaces for residents and visitors to enjoy the scenic vistas. The temperate and generally mild climate promotes outdoor recreation and community activities.
Realizing the importance of preserving curb appeal and natural resources, many property owners are installing drought-tolerant landscapes which look great throughout the year. Does your commercial property look attractive in every season? We can help!
We provide a range of contractor services for Bay Area commercial landscapes:
Count on our award-wining landscaping design, installation and maintenance services to keep your commercial property attractive.
Property owners, developers and managers across San Jose and the Bay Area enjoy exceptional customer service from our team.
Call 408-453-3998 to book an appointment with your Bay Area landscape contractors or contact us online to request a quote.
We perform our Landscape Management services in these areas:
| | | | | |
| --- | --- | --- | --- | --- |
| Bay Area | East Bay | Livermore | Redwood City | Santa Clara |
| Cupertino | Foster City | Milpitas | San Jose | Sunnyvale |
| Danville | Fremont | Palo Alto | San Mateo | TriValley |
| Dublin | Hayward | Pleasanton | San Ramon | Walnut Creek |