Commercial Landscaping Dublin, Livermore, Pleasanton
Hire Landscape Maintenance Experts to Make Your Property Stand Out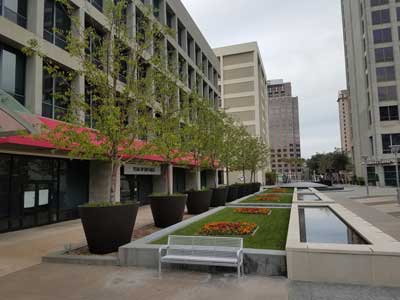 A beautiful, well-maintained landscape is not just a pleasing sight, it's also a business advantage. Keeping it attractive throughout the year, however, is not easy. Weekly gardening, seasonal plantings and cleanup, regular fertilization, disease and pest control, irrigation management, etc. takes time and requires dedicated resources. Our experienced team offers full-service solutions across Dublin, Livermore and Pleasanton. You can count on our commercial landscaping company to maintain your property in all seasons.
The triangular Tri Valley area of California is known for its award-winning wineries, unspoiled hiking trails, charming downtown areas, one-of-a-kind boutique shops and amazing restaurants. Home to nearly 60 wineries, a craft beer trail with nearly 23 stops, an ice-cream trail and hundreds of outdoor recreational spaces, there are plenty of opportunities to enjoy nature. Residents and business owners take pride in maintaining this picturesque image. Are you struggling to keep up? We offer affordable landscape management programs to help your property make a great impression.
Our Landscaping Services for Commercial Properties Include:
Landscape enhancements: Add a new garden with stone and water features. Redesign your patio. Let us help you maximize the visual impact and curb appeal of your commercial or retail property. From plant and tree selection to lawn renewal and restoration, hardscape construction and seasonal plantings, we can help enhance and preserve your landscape.
Water-efficient gardens: Hot summers and drought-like conditions take a toll on your outdoor garden and impact your business image. Xeriscapes help you maintain a vibrant landscape all year. Our team can help you select attractive local plants and ground cover that require very little irrigation or even survive on rain water. Drought-tolerant landscapes are not just a passing trend, they are ideal for California properties.
Tree care: Every year, hundreds of oaks, birches and redwoods suffer from neglect. Nutrition-deficient soil, pests and disease, over or underwatering and improper pruning are some of the main reasons. We work proactively with you to design a customized arbor care plan overseen by certified arborists.
Irrigation management: As a property owner / manager in the Tri Valley area, you are familiar with the struggle between avoiding water-use fines and maintaining curb appeal. Our smart irrigation solutions can kick-start your water conservation efforts and deliver the results you want. Customers using our systems in conjunction with sustainable landscaping, enjoy the maximum benefits.
An award-winning landscaping company, we are proud to create beautiful outdoor environments. Leverage our expert landscape management services, weekly gardening programs and smart irrigation solutions for your property. We have decades of experience maintaining large commercial, retail and multi-dwelling complexes across the Tri Valley area of Livermore, Pleasanton and Dublin.
Call 408-453-3998 for a quote or contact our commercial landscaping company online.