Drought Management Landscaping Services South County
Trusted Drought Management Landscaping Services in South County
Expert Installation, Maintenance, and Irrigation for Your Commercial Landscaping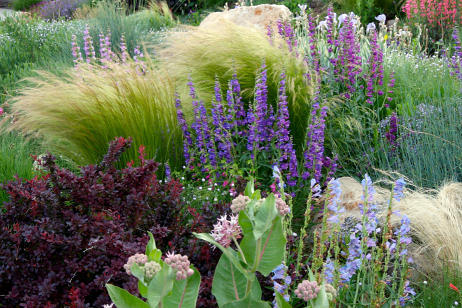 Petalon provides landscape design and installation services for commercial, HOA, condo, and retail properties and estates. We are proud to offer drought management landscaping services for clients in South County, including the communities of Gilroy, Watsonville, Morgan Hill, San Martin, and San Felipe.
We customize the landscape design to match all the elements of your property and create an elegant, natural aesthetic that results in a positive impression of your business.
Lush Landscaping and Drought Management Aren't Mutually Exclusive
Petalon landscape technicians can produce beautiful landscapes using drought-sensitive plants and trees that match the aesthetics of your property. If you have an outdated irrigation system, we can install a water-saving irrigation solution that won't cause your water bill to skyrocket.
Petalon Landscape Management will transform your property with drought-resistant landscaping for sustainable beauty that clients, customers, employers, and visitors appreciate.
Hire us to secure the following services for your South County commercial property or estate:
We'll present an inviting array of sustainable plants, flowers, and shrubs that thrive in the moderate climate of the South County for your consideration. Low-water plants come in a surprising range of sizes, textures, heights, and colors that help you connect to nature even in an urban environment.
Balanced landscape design: Our team considers the unique topography of your property and the mature size of plants to create an easy-to-maintain landscape that will thrive for years.
Regular landscape maintenance: Whether you have a small outdoor area to manage or need assistance maintaining a sprawling property with changing terrain, we can help you tame and maintain your landscape design. From mowing to weeding to pruning and fertilizing, our expert technicians keep your property in top form.
Talk to the experts at Petalon for drought management landscaping services in South County. Our clients include HOAs, businesses, estates, and campuses throughout Gilroy, Watsonville, Morgan Hill, San Martin, and San Felipe. Call us at 408-453-3998 for a free quote or contact us online with the details of your drought management needs.
South County Commercial Properties Maintained by Local Landscapers
Known as "South County," the region encompassing Gilroy, Watsonville, Morgan Hill, San Martin, and San Felipe includes urban and suburban commercial properties with various needs when it comes to producing beautiful, sustainable outdoor spaces. Contact Petalon for a free consultation on ways to incorporate low-water solutions for a lush landscape all year long.