Drought Resistant Landscaping East Bay
The Easy Switch to Drought Resistant Landscaping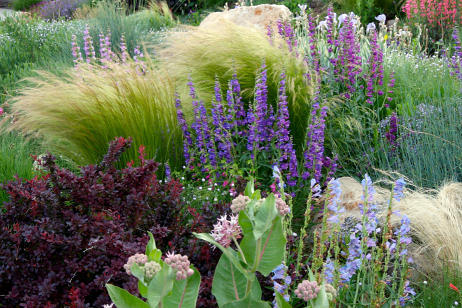 Hiring a professional, experienced company such as Petalon Landscape Management to install drought-resistant landscaping saves your business both time and money.
With the help of Petalon, you can select an appropriate palette of plantings and trees that flourish with a modern, water-saving irrigation system. Enhanced with attractive hardscape features created by our talented designers, the grounds of your property or development will be a beautiful, harmonious reflection of the image you wish to project to the public.
You'll be amazed at the transformation and delighted that your newly installed drought-resistant landscaping is so easy and inexpensive to maintain.
Petalon Landscape Management's extensive knowledge of native plants and shrubs is your assurance that, when switching to drought-resistant landscaping, you receive:
A variety of attractive, sustainable plants. We'll help you choose plants, flowers and shrubs that thrive in low-water conditions without sacrificing beauty. Selections will be compatible in terms of color and texture, so your landscape looks entirely natural.
Expert landscape design for the long-term. Our team considers many factors, including sun exposure, drainage, soil type, topography, height and size of plants once they mature, and your personal preferences. Outdoor areas built according to these guidelines remain appealing to the senses years after the initial planting.
Regular landscape maintenance. Even though it requires relatively little care, your new landscaping needs periodic fertilizing, weeding, and pruning for healthy growth. Petalon performs this service unobtrusively, without disrupting the routines of residents, employees, and customers.
Now is the Time for Expert Drought Resistant Landscaping
Regardless of how much rain our state receives the next few years, the need for drought-resistant landscaping is here to stay. Diminished rainfall throughout California over the last five years has fundamentally altered the look of our outdoor areas.
Petalon Landscape Management, started 15 years ago, wants to help your business responsibly adjust to this reality.
We serve customers throughout the Bay Area, including the East Bay communities of Pleasanton, Tri-Valley, Livermore, Hayward and Walnut Creek.
Contact Petalon Landscape Management for drought-resistant-landscaping design and installation services. Call us today at 408-453-3998 to schedule an appointment, or request a quote online.