Flower Planting Services
Expert Flower-Planting Services
When you hire the experts at Petalon Landscape Management for flower-planting services, expect the grounds around your property to get plenty of second looks.
Tenants, customers, pedestrians and passing motorists are sure to notice the vibrancy of a colorful landscape designed and installed by Petalon. We use flowers the way a chef adds spices to transform a dish from bland to delicious.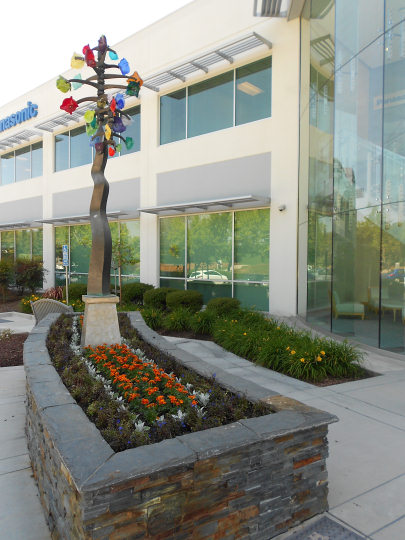 Our flower planting services give a tired landscape new life, sending the message that your company cares about the impression it conveys to the public.
Petalon's specialists take into account several factors when designing with flowers:
Client preferences. Consulting with each client is always the first step in achieving a beautiful landscape. We welcome the ideas of our clients but also are happy to make suggestions for clients who are uncertain what will look best on their property.
How existing plants, trees, shrubs, hardscaping and even nearby buildings figure into an overall design. In creating a harmonious landscape that includes flowers, we consider cool and warm colors and even architecture.
Exposure to sunlight. Picking shade or sun appropriate flowers ensures every corner of your landscape looks healthy and lush.
Drought tolerance. An efficient system of irrigation during this time of water conservation is a priority of Petalon. But minimizing water usage doesn't mean limiting your landscape to sand and cacti.
Soil type. Certain flowers do well in clay soils, for instance. The type of soil also determines fertilizing needs. Did you know that soil PH affects the color of some flowers?
Renovate Your Property with Our Flower Planting Services
Petalon Landscape Management started 15 years ago in Silicon Valley with the aim of beautifying California through outstanding landscaping. With our flower-planting services, you can rejuvenate your property or completely overhaul the landscape to create an entirely new look.
Petalon serves commercial clients such as shopping centers, HOA communities, corporate campuses, municipalities and apartment complexes throughout the Bay Area, including the cities of Fremont, Mountain View, Walnut Creek, Danville, Santa Clara, Sunnyvale, San Jose, and Palo Alto.
Call 408-453-3998 to schedule an appointment with a Petalon Landscape Management professional for flower-planting services. You may also request an online quote.
We perform our Landscape Management services in these areas:
| | | | | |
| --- | --- | --- | --- | --- |
| Bay Area | East Bay | Livermore | Redwood City | Santa Clara |
| Cupertino | Foster City | Milpitas | San Jose | Sunnyvale |
| Danville | Fremont | Palo Alto | San Mateo | TriValley |
| Dublin | Hayward | Pleasanton | San Ramon | Walnut Creek |