Hardscape Contractor for Commercial Properties and HOAs
Bay Area's Top Hardscape Contractor for Commercial Properties and HOAs
Creating Functional, Attractive Outdoor Spaces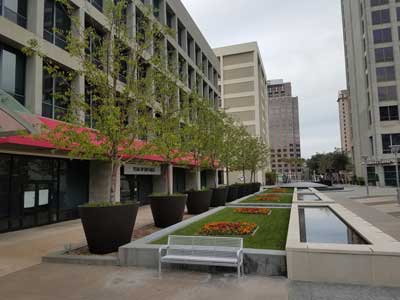 As a full-service hardscape contractor for commercial properties and HOAs, Petalon delivers attractive outdoor spaces, customized to your requirements and budget. Our qualified hardscaping specialists design and build creative, low-maintenance hardscape features that help increase the value and boost the curb appeal of your commercial property.
Comprehensive Commercial Hardscaping Solutions
Here are some of the hardscape features that we can create for your property.
Retaining walls: to prevent erosion or improve soil drainage. We also build small walls and embankments for creating multi-level plantings.
Walkways or driveways: to create barriers and encourage better flow and movement of pedestrians or vehicular traffic within the property. Crushed stone pathways could also help in improving drainage and making the walkways less slippery, especially for the safety of children and older adults.
Borders: to improve access to and within your property by creating well-defined spaces. We can also install barriers for covering up problem areas, such as the spaces where your plants or trees have difficulty growing.
Decorative elements: to add beauty and uniqueness to the overall look of your property. This could include installing sculptures, water features, trellis, benches and other creative seating, and more. Decorative hardscaping is an excellent option to create striking, welcoming spaces that attract potential customers and occupants.
Hardscaping with pavers, bricks or stones:
To bring down your costs and efforts in seeding, mowing, weeding, trimming, and replanting.
To improve your water conservation goals, by getting rid of the overly 'thirsty' trees and plants.
Well-executed hardscaping, such as paved patios or concretized areas will stand up to the weather and help in improving your property value by drastically reducing the long-term maintenance efforts and cost.
Hire Experienced Commercial Hardscape Contractors in the Bay Area
Seamless interaction and coordination between our hardscape designers, landscaping architects, arbor care professionals, and the on-site crew, makes for a team that works efficiently and delivers results, on time. Our integrated services allow us to address the design, installation, and maintenance of all aspects within your outdoor spaces. Whether you wish to add a standalone water feature, or include a beautifully designed flower garden around it, we can implement the landscape enhancements you need. We create distinctive hardscaping elements that your neighbors will envy, and your customers, tenants, and employees will appreciate.
Our integrated team serves commercial complexes and HOAs across the Bay Area, including Walnut Creek, Palo Alto, East Bay, Redwood City, San Mateo, and Hayward, CA.
Looking for a one-stop-shop for landscaping, hardscaping and arbor care requirements in the Bay Area? Count on the experts at Petalon. Call 408-453-3998 to schedule a consultation or contact us online.
We perform our Landscape Management services in these areas:
| | | | | |
| --- | --- | --- | --- | --- |
| Bay Area | East Bay | Livermore | Redwood City | Santa Clara |
| Cupertino | Foster City | Milpitas | San Jose | Sunnyvale |
| Danville | Fremont | Palo Alto | San Mateo | TriValley |
| Dublin | Hayward | Pleasanton | San Ramon | Walnut Creek |