South County Landscape Maintenance and Tree Care
Trusted South County Landscape Maintenance and Tree Care
Custom Services to Beautify Your Commercial Landscape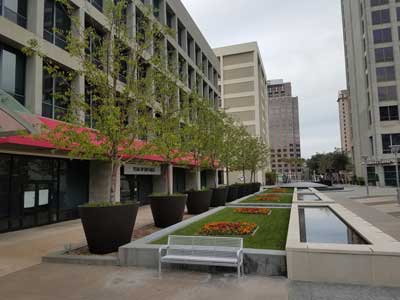 Petalon is trusted by commercial property owners and managers across South County for landscape maintenance and tree care. Choose from a comprehensive list of services that includes weekly lawn care, plant selection and maintenance, plant health care, and tree services.
We invite you to schedule a consultation to learn how our experienced team balances a healthy ecosystem with low water conditions in South County. Whether your property lies in Gilroy, Watsonville, Morgan Hill, San Martin, or San Felipe, you can count on Petalon for reliable landscape maintenance. We're business owners too and our team concentrates on creating and maintaining beautiful spaces at a reasonable price. Enhanced curb appeal will also boost the value of your commercial property when you decide to sell.
Range of Landscape Maintenance and Tree Care Services in South County
Clients, customers, employees, and potential business partners see your trees and other landscape features before they walk through your doors. Does your property need a makeover from South County's premier landscaping contractors?
Here are a few ideas to spruce up your landscape design and create the right impression:
Give your property a makeover with new plants, hardscapes, and efficient water features with our annual planting and planning services.
If you have a large commercial property, you may need dedicated assistance to maintain the gardens, walkways, and trees. An experienced landscaping crew can maintain the site daily or as needed. From pruning to cutting and edging to pest control, we'll safeguard the health of your landscape.
Drought-resistant landscaping includes using native plants with curb appeal that won't cause you to go over water limits. With xeriscaping and efficient irrigation systems, you could use 30% less water. Water efficient trees and plants can survive drought conditions and help you maintain a sustainable landscape.
We follow local, state, and national best practices when it comes to our selection of pesticides and herbicides. We also believe in responsible fertilizing that takes a friendly approach to the environment, watershed, and people. That means we only use products that deliver the desired results without dramatically impacting the environment.
We offer comprehensive tree care services including tree selection and planting, tree relocation and removal, stump removal, pruning, staking, deep root fertilization, and integrated pest control management.
Whether you need assistance with routine maintenance or specialized projects, we have you covered.
For one-stop landscape maintenance and tree care services in South County, including Gilroy, Watsonville, Morgan Hill, San Martin, Santa Cruz, San Felipe, San Juan Bautista, Aromas and Scotts Valley, call us at 408-453-3998. You can also contact us online to request a complimentary estimate.
South County Commercial Properties are Maintained with Pride
Informally known as "South County", the region includes the cities of Gilroy, Watsonville, Morgan Hill, San Martin, Santa Cruz, San Felipe, San Juan Bautista, Aromas and Scotts Valley. Property owners and managers take pride in their well-maintained landscapes and gorgeous trees, hiring professionals to keep their premises attractive through the year.