San Jose Landscape Maintenance Company
Keeping Your Commercial Property Beautiful in Every Season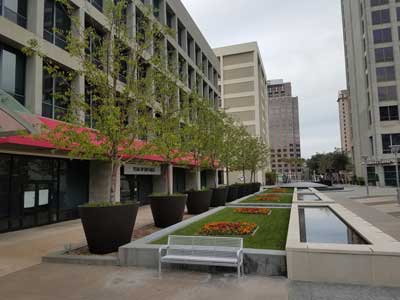 As your landscaping contractor, we efficiently fulfill all your needs from garden enhancements to weekly pruning and year-round plant health care. At Petalon, our customized services provide great value and lasting curb appeal. Using environmentally friendly tools and techniques, we help you maintain an attractive outdoor space with minimal effort and low water use. Trust our San Jose landscape maintenance company to make your commercial property stand out.
With small town charm and big city amenities, San Jose is a wonderful place to live, work and conduct business. Located in central Santa Clara County at the southern edge of the San Francisco Bay, it offers easy access to some of the best destinations in northern California. You can visit Monterey Bay, the renowned Napa Valley wine region and Yosemite National Park within a comfortable drive from San Jose.
Due to the concentration of large engineering, computer, and microprocessor companies around San Jose, the area is famous as 'Silicon Valley'. Cisco Systems, eBay, IBM and Adobe Systems, Inc. are among the city's largest employers. Arts and culture connect people in California's first capital and provide rich opportunities for community interactions.
With great weather throughout the year, San Jose residents make the most of immaculately maintained expansive open spaces, beautiful parks, trails and local attractions. Take advantage of our professional landscaping services to keep your property attractive all year.
Customized Services from Your San Jose Landscape Maintenance Contractor
Are you looking for a way to avoid water use penalties? Let us show you the endless possibilities of Xeriscaping with drought tolerant trees, grass and ground cover. In addition, our water-efficient irrigation systems can generate savings of up to 30% every year.
Is a landscape renovation on the cards? We successfully transform outdoor spaces from dull and unattractive to unique and eye-catching. From plant and tree selection to installation and maintenance, our services ensure your complete satisfaction. Take advantage of our seasonal planting programs to change the look of your property to suit the time of year.
Concerned about tree growth? Proper planting, watering and pest control are essential to tree health and life span. We partner with ISA-Certified arborists in the San Jose area to deliver expert care for your ornamental, heritage and fruit trees.
Looking for a way to maintain a green and vibrant lawn? With aeration, weed control, timely fertilization, regular thatch removal and mowing, Petalon staff will keep your lawn beautiful, even during the hottest, driest months of the year.
Large estates, corporate campuses, retail complexes, condominiums and HOAs benefit from Petalon's tailored maintenance plans. Take advantage of our weekly gardening programs that cover fertilizing, mowing, trimming, pruning, pest control, weeding and seasonal cleanup.
Call 408-453-3998 or contact us online to request a quote from our San Jose landscape maintenance company.