Commercial Landscape Maintenance
Conscientious Commercial Landscape Maintenance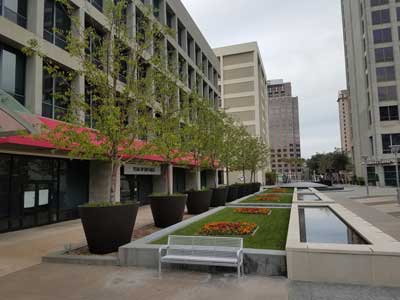 Trust Petalon Landscape Management to provide year-round preservation of the appearance of your grounds with commercial landscape maintenance.
We provide a variety of services to ensure your landscaping is always vibrant and attractive. On a weekly basis, Petalon professionals are on your property, performing basic tasks such as mowing, weeding, adjusting and repairing irrigation systems, edging, and trimming plants and shrubs.
Petalon's program of commercial landscape maintenance goes beyond weekly upkeep. We also apply a long-term approach that involves planning for your future needs so that your landscape is always healthy, even in times of drought or inclement weather.
This overall vision, which utilizes our deep knowledge of California horticulture and environmental awareness, includes services such as:
Turf care. Petalon keeps your grassy areas green and lush with timely thatch removal, aeration, and fertilization. We also re-seed to eliminate bare spots and keep your lawn thick and walkable.
Arbor care. Trees are the focus of many landscapes, and our professional arborists keep them strong and robust with a regular schedule of fertilization and pruning. We also inspect for infestations or disease and do plantings or removals, as needed.
Seasonal plantings. If you prefer the appearance of your grounds to change depending on the time of year, Petalon obliges with seasonal plantings that thrive in the California climate. We offer a huge selection of annual plants and flowers that bring color and interest to any landscape.
Integrated pest management. Petalon believes natural methods are most effective in fighting bug infestations while being kind to the environment. We employ IPM to keep pests at a tolerable level.
Our Commercial Landscape Maintenance is Always Green
Petalon is dedicated to organic methods of landscaping that preserve natural resources and do not inject dangerous chemicals into the environment.
In addition to IPM, we recycle as much green waste as possible, use reduced-emission equipment, and vigorously pursue water conservation through modern irrigation techniques.
Petalon Landscape Management serves businesses, government entities and HOAs in the Bay Area cities of Fremont, Mountain View, Walnut Creek, Danville, Santa Clara, Sunnyvale, San Jose, Palo Alto, Livermore, and Pleasanton.
Call 408-453-3998 today to discuss how our commercial landscape maintenance services can keep your property beautiful, or contact us online to request a quote.
We perform our Landscape Management services in these areas:
| | | | | |
| --- | --- | --- | --- | --- |
| Bay Area | East Bay | Livermore | Redwood City | Santa Clara |
| Cupertino | Foster City | Milpitas | San Jose | Sunnyvale |
| Danville | Fremont | Palo Alto | San Mateo | TriValley |
| Dublin | Hayward | Pleasanton | San Ramon | Walnut Creek |