Best-in-class Commercial Landscape Services in Hayward and Redwood City
Experienced professionals can maintain your commercial property with beautiful trees, plants, and turf. Whether you regularly invite clients on site or want serene surroundings for employees and guests, invest in the top commercial landscape services available in Hayward and Redwood City, CA.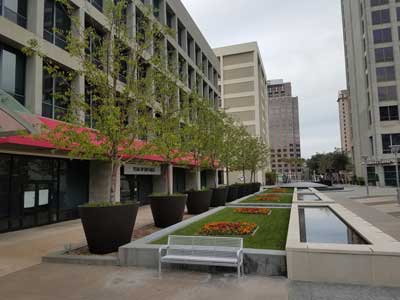 Reliable Commercial Landscape Maintenance
Our commercial landscapers make it easy to keep one step ahead of landscape management, lawn care, and integrated pest management. At Petalon Landscape Management, we customize your service package to match your property's needs, taking local factors into account.
From the design phase to maintaining your commercial property throughout the year, we have you covered. Here's an overview of our commercial landscape services in Hayward and Redwood City:
Landscape installation: You can trust our professionals to design and install new features. Our landscape installation services include seasonal plantings, tree and plant selection, and artificial turf.
Drought management: Like much of California, Hayward and Redwood City often face drought conditions. We can help you switch to trees and plants that use minimal water.
Turf and soil care: Whether you need soil amendment to enrich your landscape from the ground up or require seasonal turf care, such as fertilization and pest management, we can help. Mowing, aeration, and thatch removal are some of the ongoing services that keep your property attractive.
Arbor care: Trees follow a lifecycle unique to each species. This influences the best times to prune, fertilize, or remove damaged or sick trees. From planting to growth to removal, our team will take all the steps necessary to help your trees thrive.
Irrigation and drainage: Our irrigation specialists can replace your inefficient or aging irrigation system with a water-conserving, new one. Proper drainage is also essential to boost the vitality of your landscape.
Sustainable initiatives: Xeriscaping, turf reduction, and drought management are just some of the ways to create a unique landscape and potentially lower your water bill.
Contact Petalon online or call us at 408-453-3998 for commercial landscape services in Hayward and Redwood City. We serve customers across the San Francisco Bay Area.
Hayward and Redwood City Boast Natural Beauty, Arts, and Technology
Hayward and Redwood City are much sought-after cities within the San Francisco Bay Area. Tech giants, media companies, and a thriving small business community make for a diverse, vibrant population. Redwood City has numerous parks that can inspire your commercial landscape planning. Besides gorgeous green spaces like Edgewood Open Space Preserve, the area has plenty of shopping and entertainment activities. Hayward's attractions include the Don Castro Regional Park and Garin Regional Park. Both cities are home to galleries and museums that offer residents and visitors opportunities to discover, explore, and enjoy the area.