Palo Alto Commercial Landscaping
Trusted Commercial Landscaping Services in Palo Alto
Customized Plans for Your Property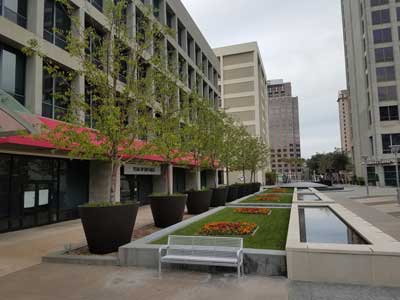 Beautiful outdoor spaces create a welcoming atmosphere that your clients, tenants, and visitors will appreciate. The experienced Petalon team offers a full suite of landscape design, installation, and maintenance services to keep your property attractive and vibrant throughout the year. We can enhance your natural surroundings with beautiful stone walls, inviting patios, attractive wooden or metal arbors and gazebos, soothing water features, and more. You can count on our creative ideas, high quality workmanship, and attention to detail. Palo Alto property owners and managers depend on our commercial landscaping services to enhance curb appeal and real estate value.
Palo Alto gets its name from a majestic 1000-year-old coastal redwood tree along San Francisquito Creek. More than a hundred years old, the city is one of the most expensive places to live in the United States. Many of Stanford University's first faculty members lived in this area of highly educated residents. As a central economic focal point of Silicon Valley, several well-known companies like Hewlett-Packard, Tesla, VMware, and Xerox have their headquarters here.
A moderate climate, a strong economy, and a vibrant lifestyle make Palo Alto an attractive place to live, work, and do business. Home and business owners proudly maintain their properties and the city has beautiful tree-lined streets, open spaces, and parklands.
Our team can help you select attractive trees and plants to enhance your landscape while lowering your watering and maintenance requirements. We know how to transform dull surroundings into stunning spaces that reflect and complement your business image.
Our comprehensive commercial landscaping services include:
Whether you need a new landscape design and installation, enhancements to your existing site, or complete renovation, we deliver. Our goal is to make you proud of your commercial property. Estates, condominiums, public and private institutions depend on our landscaping expertise to make their premises attractive to clients, tenants and buyers.
Award-Winning Commercial Landscaping Company
We produce stunning outdoor spaces that are custom-designed for each client. Our crew takes into account key considerations, such as property size, location, sun exposure, and watering requirements. Fertilizing, mowing, trimming, pruning, pest control, weeding, seasonal cleanup, etc. are included in our weekly gardening programs to save you time, effort, and money.
Clients hire our award-winning landscape design and maintenance services year after year.
If you are looking for commercial landscaping services in the Palo Alto area, call us at 408-453-3998, or contact us online to request a quote.