San Jose Certified Arborists
San Jose Certified Arborists Oversee Your Tree Care Needs
Expert Crews Keep Your Commercial Property in Great Shape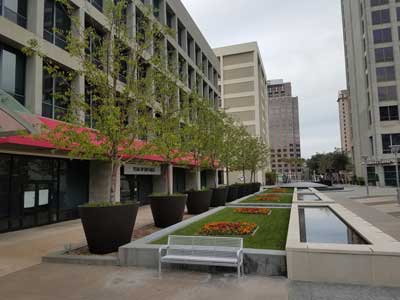 The Petalon team works with Bay Area tree specialists to keep your property tidy and attractive. You can count on us for useful advice on tree selection and planting to nurture a vibrant landscape. We will take care of pruning, pest control and disease treatments as required. Property owners and managers trust the expert care by our landscape management company and certified arborists in the San Jose area.
ISA-Certified Arborists Are Specially Trained
We partner with these certified professionals for their expertise in:
Tree selection and planting: By helping you choose the right trees and best planting locations on your property, arborists can minimize tree maintenance issues and costs.
Pest and disease control: Concerned about yellowing leaves, tree limbs breaking off and fungi growth on the barks? Correct diagnosis and proven treatments by these 'tree doctors' will help nurture and protect your green investments.
Tree removal and transplanting: Do you need to remove a fallen tree, hazardous stumps or clear the land for development? Our team is well-versed with local regulations and removal techniques. ISA-certified professionals can help you get the job done safely and efficiently without damaging the surrounding landscape. To preserve tree health, we can move them to a location where they will thrive for years to come.
Tree care budgets: Arborist reports provide important information about tree health and maintenance. With useful information about tree inventory, appraisals and preservation plans, you can ensure better planning and reduce your annual tree care budget.
Count on our award-winning commercial landscape management company to provide you with exceptional tree care and customer service. We use the services of certified arborists to promote the health and longevity of your trees. Clients depend on our weekly gardening and lawn care programs. Utilize our expertise with sustainable landscaping and irrigation management for your property.
Our clients in the San Jose and East Bay area including Fremont, Milpitas, Mountain View, Sunnyvale, Palo Alto, Livermore, Pleasanton, Dublin and Danville, CA rely on us to look after their green investments.
Call 408-453-3998 to request a quote or contact our tree care company online to learn more about services provided by San Jose certified arborists.