Sunnyvale Commercial Tree Care Company
Sunnyvale Commercial Tree Care Services
Keeping Your Property Beautiful in Every Season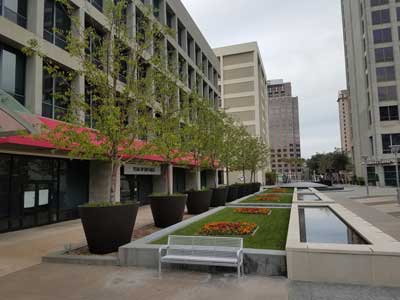 Professional care by Petalon's expert crew will protect the health and value of your trees. With years of experience in the industry, we have strong ties with ISA-certified arborists in the Sunnyvale area. Together, we work efficiently to keep your property looking great throughout the year. From tree selection to pruning, fertilization and pest control, our dedicated team provides year-round attention and care to help you maintain an attractive and safe landscape. Property owners and managers depend on us for proven commercial tree care services that enhance their business image.
The thriving city of Sunnyvale shares borders with San Jose (north), Mountain View (west), Los Altos (southwest), Cupertino (south) and Santa Clara (east). Being part of Silicon Valley, many well-known tech and aerospace companies such as Apple, Yahoo, Google and Lockheed Martin have their operations here.
Like most of the San Francisco Bay Area, the city has a moderate climate with comfortably warm, dry summers and mild, moist winters. Extremes such as tornadoes and snowfall are rare. The southern half of the area is predominantly residential while the area north of Highway 237 is marked for industrial use.
Over a thousand Eichler homes and 476 acres of parks distinguish Sunnyvale from its neighbors. Residential and commercial property owners are encouraged to maintain beautiful landscapes. The Adopt-A-Park program offers community groups and neighborhood associations ample opportunities to play an active role in keeping parks clean and safe.
Do your commercial premises make a positive impression? Take advantage of our professional tree and landscape management services to help your property make a great impression.
Services Offered by Your Sunnyvale Commercial Tree Care Company
Do you see a problem with one of the trees on your property? Ask the arboricultural experts at Petalon how to improve its health and appearance.
Disappointed with the low yield from your fruit trees? Our customized fruit tree program can help improve the quality and quantity of your crop.
Are you looking to increase your tree cover? We can help you select and plant attractive, drought-resistant trees that will beautify your property.
Need to clear unsightly stumps or hazardous trees from your business premises? We have crews equipped to get the job done safely. Our teams work with minimal disruption to your business activities and preserve the surrounding landscape.
As a full-service commercial landscape management company, we provide integrated tree management, weekly gardening and lawn care plans to keep your property looking its very best. We can help you maintain a healthy and sustainable landscape.
Call 408-453-3998 or contact our Sunnyvale tree care company online to request a quote.