Bay Area Office Building Landscape Management
Let Our Experts Enhance Your Property's Value and Curb Appeal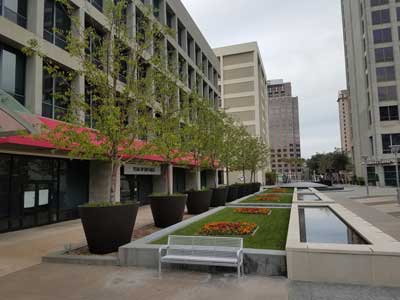 Maintaining attractive lawns and healthy trees is the starting point for any Bay Area office building landscape management efforts. Without beautiful, drought-resistant foliage, you will not be doing justice to your prime real estate. At Petalon, we offer a complete suite of tailor-made landscape management services to commercial establishments throughout the Bay Area. From turf and tree care to landscape enhancement, irrigation and drainage, you can count on us for dependable and budget-friendly services.
Reliable and Affordable Landscape Management for Bay Area Office Buildings
Lawn care:Our turf care crew creates stunning landscapes that leave a lasting impression on everyone who visits or conducts business in your Bay Area office building. We design systematic plans for mowing, trimming, edging, aeration, seasonal cleanups, weed management, and all other services required to maintain lush lawns.
Arbor care: Whether it is planting, pruning, mulching, tree pest and disease control, or tree relocation or removal, we provide a wide range of tree services. Our ISA-certified arborists efficiently address the entire tree management lifecycle for your Bay Area commercial property.
Hardscaping: Adding decorative elements, such as water features or sculptures? Directing foot traffic or vehicular movement with well-designed walkways and driveways? Building retaining walls to prevent soil erosion? No matter what your requirements, Petalon's experienced hardscape management professionals can help improve your property's functionality as well as aesthetic appeal.
Irrigation management: Our water management experts offer customized solutions that cater to your irrigation requirements. Drip irrigation, water-saving sprinkler heads, and sensor-based irrigation control systems are just a few examples of how we can reduce water and maintenance costs for your Bay Area office building landscape.
Drought management: Our drought management specialists can support your water conservation goals in a number of different ways. We promote sustainable landscapes through xeriscaping (replacing thirsty plants with water-wise foliage), turf conversions and reduction, and swapping your aging irrigation system with a smart, modern system.
Hire the Bay Area's Office Building Landscape Management Experts
At Petalon, we work with an integrated network of highly qualified professionals who are passionate about maintaining striking, drought-tolerant landscapes. From plant health management and smart watering solutions, to water-saving recommendations and skilled hardscape installations, we cater to all aspects of your Bay Area office building landscape.
Property owners and managers throughout the Bay Area count on us for maintaining attractive landscapes all year round. We serve an extensive range of commercial establishments in Palo Alto, San Mateo, Sunnyvale, Santa Clara, and Cupertino, CA.
To learn more about our full range of landscape management services for your Bay Area office building, call 408-453-3998. You can also contact us online to request a quote.