HOA Landscape Maintenance
A Budget-Minded HOA Landscape Maintenance Contractor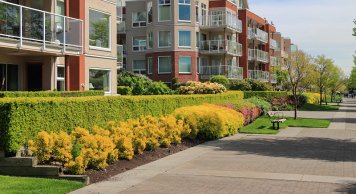 As an HOA landscape maintenance contractor, Petalon Landscape Management simplifies property management.
Our team of professionals handles every landscape-related issue on your property, year-round. You never have to worry about all the work that goes into keeping your grounds immaculate, because we have it covered.
Petalon is an HOA landscape maintenance company with decades of experience in the Bay Area. From years of working with managers and owners of planned developments such as condominium and apartment complexes, we understand the importance of delivering quality landscaping services at a cost that keeps your tenants' monthly fees reasonable.
We provide every service you need, including tree care, irrigation installation and repair, hardscape construction, color design and planting, and integrated pest management. We'll customize a landscape maintenance plan that reflects just the services you want, at a price you can appreciate.
Because Petalon values our planet's natural resources, we have a green philosophy. Our pros work hard to recycle waste, conserve water, and reduce emissions from our equipment.
Our Basic HOA Landscape Maintenance Services
Petalon offers a range of HOA landscape maintenance services, including:
Tree assessment. We make certain your trees are strong, healthy, and pose no liability or property damage issues. We also plant new trees that increase real estate values and improve aesthetics for tenants and visitors.
Drainage review and assessment. Does rain or irrigation leave parts of your property flooded? We'll evaluate problem drainage areas on your grounds and fix them for good.
Irrigation system evaluation. We conduct an in-depth inspection of your irrigation system and offer solutions that save you water and money.
Overall planting program. Petalon designs, installs and maintains stunning flower and plant landscapes that bring color and variety to your property. We specialize in drought-tolerant native plantings that require little water and look beautiful all year.
Plant health care. Our fertilization programs and integrated pest management practices will ensure the continued health of your trees, shrubs and flowers.
Petalon Landscape Management provides commercial landscaping services for Bay Area HOAs in the cities of Fremont, Mountain View, Walnut Creek, Danville, Santa Clara, Sunnyvale, San Jose, Palo Alto, Livermore, and Pleasanton.
Call Us for Expert HOA Landscape Maintenance Services
Landscaped grounds that are well conceived, expertly planted and maintained with care will boost real estate values and attract buyers and tenants.
Call 408-453-3998 today to learn more about HOA landscape maintenance services by Petalon Landscape Management.
We perform our Landscape Management services in these areas:
| | | | | |
| --- | --- | --- | --- | --- |
| Bay Area | East Bay | Livermore | Redwood City | Santa Clara |
| Cupertino | Foster City | Milpitas | San Jose | Sunnyvale |
| Danville | Fremont | Palo Alto | San Mateo | TriValley |
| Dublin | Hayward | Pleasanton | San Ramon | Walnut Creek |