Landscape Maintenance Company in the San Jose Area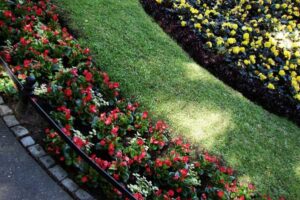 Trust Us to Create and Maintain Your Green Spaces
As commercial property owners or managers, you know how critical it is to partner with an experienced and dependable landscape maintenance company. From delivering beautiful turf and foliage, to keeping trees healthy and disease-free, qualified landscaping professionals can truly enhance the value and appeal of your property. At Petalon, we cater to all aspects of lawn and tree care, including pest management and smart irrigation.
Enjoy Beautiful Commercial Landscapes
Petalon's integrated network of landscapers, water management experts, and ISA-certified arborists combine their skills and experience to deliver a seamless experience. We serve many commercial clients in the San Jose area, including corporate and retail premises, schools, municipalities, and HOA complexes. Our meticulous, cost-effective services include:
Landscape design and enhancements: Whether you need a seasonal flower garden, lawns, new hardscaping elements, or more trees and plants, we can meet your goals. Our team of specialists carefully plans every aspect of the design and installation. We account for soil conditions, spacing, light availability, visibility, safe movement, and accessibility within your property.
Turf care: From mowing, edging and weed control, to seasonal clean-up, turf renovation, and fertilization, we carry out all types of lawn care services. Our goal is to ensure lush outdoor spaces that inspire and impress your customers, visitors and occupants.
Landscape maintenance: As a full-service landscape maintenance company, we provide year-round care for the trees and plants on your property. You can count on us for a variety of tree services. This includes pruning, staking, mulching, integrated pest control management, deep root fertilization, and tree relocation or removal.
Water management: In addition to installing and maintaining smart irrigation systems, we help you achieve sustainable, drought-tolerant landscapes. Our teams carry out turf reduction, xeriscaping, soil quality amendments, grading, and other such services. We help lower your water consumption through water-wise foliage, improved drainage, and erosion control.
Hire San Jose Area's Trusted Landscape Maintenance Company
A recognized landscape maintenance company in the San Jose Area, Petalon delivers cutting-edge practices across its range of services. We work with a network of experienced, local professionals who understand the climate, soil and horticultural aspects of this region. No matter what your landscaping goals, we customize plans to suit your property's needs and budget.
We serve the landscaping requirements of an extensive range of commercial properties in the San Jose area. This includes properties in Foster City, Sunnyvale, San Mateo, Palo Alto, Mountain View, and Burlingame, CA.
Partner with a reliable, affordable, full-service landscape maintenance company in the San Jose Area. Call us at 408-453-3998 or contact us online to schedule a consultation.