Landscaping Water Saving Ideas 2020
It's 2020 – Time for New Landscaping Water Saving Ideas!
Learn How to Achieve Beautiful, Water-Efficient Landscapes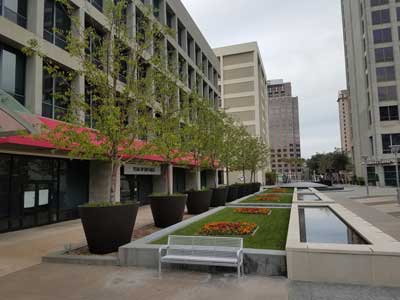 Having battled drought for several decades, Californians appreciate any water saving idea that can help conserve this precious resource. While certain water-conservation aspects have become mandatory due to state and city-specific regulations, there are several other steps you can take to achieve beautiful, water-wise landscapes. The irrigation management experts at Petalon share some of our top landscaping water saving ideas for 2020.
Top 3 Water Saving Tips for Drought-Prone Landscapes
Although the entire state of California came out of drought in March 2019, it is always useful to plan for the future and invest in drought-tolerant landscaping. With spring and summer just around the corner, now is the perfect time to plan and implement landscape water saving ideas for your commercial properties in the San Jose area.
Consider a plant composition makeover: For existing landscapes, try replacing your thirsty plants and shrubs with water retaining or drought-tolerant varieties. You may want to swap your turf with stunning xeriscapes or replace the traditional grass with low-watering grass. If you are planning a new landscape, choose your plants and trees wisely, and space them appropriately to reduce the competition for water. Prevent run-offs and deterioration of water quality by choosing the right soil augmenting additives. Mulching is another way to retain soil moisture and reduce the water requirements of plants.
Introduce hardscaping: Reduce the water-craving lawn areas by adding hardscaping elements, such as flagstones or concrete. At the same time, schedule routine irrigation maintenance services to keep your pathways clear of leaves or debris that could impact drainage, or lead to mossy, hazardous surfaces. A seasonal tune-up will not only help your drainage systems, but also extend the life and functionality of your irrigation systems.
Upgrade irrigation systems and consider drainage water recycling: Complying with local water-use restrictions can help you avoid fines. One of the latest regulations adopted by California requires pressure regulators in newly installed sprinklers, effective October 1, 2020. It may be worth investing in a drip irrigation system that delivers a controlled amount of water. Modern irrigation systems offer smart, water-saving features that are configurable to your property. In fact, switching to microsprays and soaker hoses could help you extend the watering times for plants, without the risk of nutrient runoff or soil erosion. Check into 'heavy-droplet' sprinkler nozzles that focus on root watering, making them a highly water-efficient option. Additionally, consider implementing drainage water recycling by storing the drained water in a reservoir, pond, or drainage ditch, and reusing it to water your landscape.
Save Water and Save Money, Hire the Bay Area's Expert Landscapers
Cost-effective, water-smart techniques are the foundation of landscaping and irrigation management in the San Jose area. The team at Petalon is at the forefront of green initiatives, our water conservation techniques are recognized in the commercial landscaping industry. Our integrated network of qualified professionals works in tandem to customize efficient water management techniques for your commercial property. Whether it is irrigation, drainage, turf care, or arbor care, we offer a number of water-smart and energy-smart solutions to help you embrace a green lifestyle.
Commercial property owners and managers across the San Jose area, depend on us for sustainable landscape management services. This includes properties in Palo Alto, Sunnyvale, Foster City, Dublin, Hayward, Santa Clara, Fremont, Redwood City, and Livermore CA.
Call 408-453-3998 to learn more about landscaping water saving ideas for your San Jose area property. You can also contact us online to book a consultation.
Tags: conservation, hardscaping, irrigation, water saving