Natural Replacements for Lawns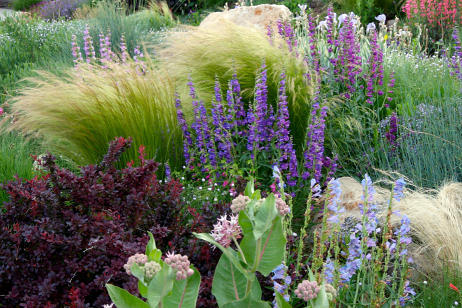 Best Options for Natural Replacements for Lawns
Choose Alternatives to Grass from Wildflowers to Moss
Traditional grass requires a lot of time, water, and money to maintain. Typically, it also needs chemical fertilizers, herbicides, and pesticides to remain in pristine condition. However, there's another way to carpet the lawn of your retail, commercial, campus, or large estate property.
The good news is that you don't have to go all in. Instead, you can follow the pattern of many businesses and homeowners by transforming a portion of your landscaping to grass alternatives. Learn more about natural replacements for lawns available through Petalon's landscape management service.
What Natural Replacements Are Ideal for Lawns?
From wildflowers to fescue to clover to moss, there are many natural replacements for lawns.
Fescue: Although technically a type of grass, fescue does well in hot and cold climates and has a high drought tolerance. If overseeded for two to four years, it naturally takes over your traditional grass, and you can let it overgrow to create undulating waves reminiscent of a meadow and perfect for large estates.
Dutch clover: This plant pulls nitrogen from the air to help nourish your soil. Growing 4 to 6 inches tall, it does well in shady areas where traditional grass might not grow well. It's also a great idea for groundcover for large shady spaces on large estates or campuses.
Wildflowers: It costs less than $100 to sow dozens of varieties of wildflowers over a 3,000 square foot area. Your Petalon crew can lay down polyethylene to kill your problematic grass and seed a test area with wildflowers. With little to no watering required, you can enjoy a beautiful space full of diverse wildflowers that customers, guests, and visitors love. This is a great idea for HOAs looking to save money on water and lawn care. Wildflowers also attract bees and butterflies, turning the bed into an impromptu habitat.
Mosses: Ornamental mosses make a great alternative to grass in wet, shady areas. Keep in mind that while moss feels great underfoot, it doesn't handle heavy traffic well, so it's not recommended for busy areas of your lawn.
Looking for more green alternatives that can help you comply with strict water usage rules? Consult with the experienced landscaping team at Petalon to learn more about drought-resistant plants and trees to incorporate into your commercial landscaping. We serve the entire SF Bay Area including Pleasanton, San Jose, Walnut Creek, Redwood City and Hayward, and Morgan Hill and Gilroy areas.
Contact Petalon today to find out about your alternatives for natural replacements for lawns. Call 408-453-3998 for a quote.
Tags: fescue, lawn alternative, mosses, wildflowers