Planning for Drought Landscape Management in 2020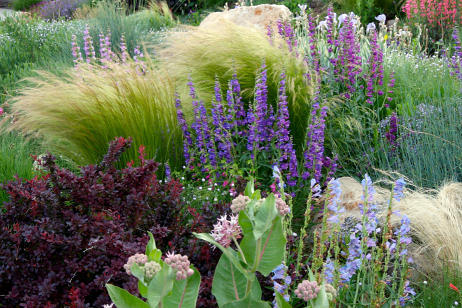 Be Prepared for a Dry Summer 2020 Across the Bay Area
A year ago, in March 2019, the entire state of California became drought-free for the first time in almost a decade, bringing much needed relief to the area. However, with a record 0 rainfall in February 2020, the months ahead look less promising and issues of water shortage will inevitably arise again. Commercial property owners and managers across the Bay Area need to start planning for drought with water-efficient landscape management in 2020.
Petalon's irrigation management experts offer water-smart suggestions for commercial property landscapes.
Top 5 Ideas for Drought-Tolerant Landscape Management in 2020
Reduce or limit the turf area: Replacing your grass covered areas with hardscaping elements will considerably reduce the water consumption on your property. Consider creative hardscaping solutions, such as sculptures, benches, or borders. Look at adding walkways using pavers, stone, concrete, brick or gravel. If you cannot limit the turf, consider swapping out regular grass with water-wise grass options.
Improve soil quality and use mulch around your trees: Amending the soil with rich, organic materials will allow better water retention and limit your usage of water. Peat moss, grass clippings, manure, or wood chips make for excellent soil amendment materials. Improving the soil quality will lead to stronger root development, better drainage, and greater natural aeration, along with preventing water runoff. Additionally, use shredded hardwood or pine needles as mulch in your plant beds and trees. This will create a protective, moisture-retaining layer that shields the plant roots from the elements.
Incorporate native, drought-resistant plants: Native or water-wise plant species are an excellent addition to drought-tolerant landscapes. They come in a variety of gorgeous colors and textures, making your landscape more beautiful and tough.
Capture water and prevent runoff: Installing rain barrels to capture and funnel runoff into a cistern will allow you to reuse the water for irrigation purposes. Adding rain gardens of native shrubs, flowers or perennials in the low spots of your landscape will help catch and clean the groundwater before infiltration.
Switch to electronic water management systems: Instead of traditional sprinkler systems that tend to cause overwatering and wastage, consider switching to a cutting-edge, drip irrigation system. These modern watering systems intelligently monitor the temperature, slope, and soil moisture to deliver a controlled amount of water, only where needed. Investing in the water-efficient, 'heavy-droplet' sprinkler nozzles that target the roots of plants and grass will also reduce overall water consumption and wastage.
Smart, Drought-Tolerant Landscaping for your Bay Area Property
Adopt comprehensive water management strategies for achieving a cost-effective, drought-resistant commercial property landscape. Save water and money without compromising on the value or appeal of your property. Hire the experienced commercial landscapers at Petalon. From turf reduction and drip irrigation, to hardscaping, and water-wise planting, we provide a number of drought-tolerant solutions to address your landscape maintenance and water consumption requirements.
Commercial property developers, owners, and managers across the Bay Area count on us for creating and maintaining water-smart landscapes. This includes large retail or corporate complexes, municipalities, schools, HOA communities, and other commercial spaces in San Jose, Santa Clara, Redwood City, Fremont, Livermore, Sunnyvale, Hayward, Dublin, Palo Alto, and Foster City, CA.
Planning for drought landscape management solutions in 2020? Call 408-453-3998 or contact us online to book a consultation for your Bay Area property.
Tags: conversation, drought, irrigation