Tree Care Needs for Spring
How to Keep on Top of Tree Care Needs for Spring
Hire an Experienced Landscape Management Company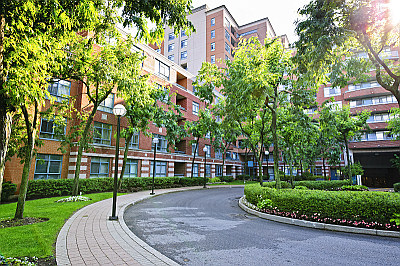 The right care at the right time by tree experts will help your green investments thrive. Commercial and retail property owners and managers often have many trees and plants to manage and limited resources to do so, but we can help. Here is a simple guide to managing your tree care needs for spring.
Spring Tree Maintenance Tips for Commercial Properties
Inspect trees for winter damage, pests and disease: With reduced foliage after the winter, it is easier to see signs of stress on the bark and limbs. Seek the help of an arborist to properly identify current and potential issues. You can request a detailed report and comprehensive plan to help nurture your trees back to good health. This will also help with budgeting for the rest of the year.
Prune branches: When done correctly and at the right time, pruning promotes healthy growth. Early spring is an ideal time for trimming crisscrossing, weak and dead branches, and thinning deadwood. Delaying this maintenance activity can expose your trees to pests and disease.
Clean mulch rings: Remove fallen debris like broken limbs and twigs, leaves, as well as excess mulch. You can leave 2 to 4 inches of mulch around the base of the tree. This makes it easier for sunlight and water to reach the roots. It will also deter fungi and mold growth.
Examine the root system: Tree roots are responsible for providing nutrition, water and structural support. Though below the ground, they too are susceptible to damage and disease. Check for signs of trouble like exposed roots, those crossing over the trunk or pushing through the grass and concrete structures. Assess the root zone for drainage issues; prolonged flooding can kill your trees. Compacted soil is also a problem as it prevents nutrients, water and sunlight from reaching the roots.
Fertilize: Winter causes hardening and depletes nutrients in the soil. Loosen and fertilize the soil around tree bases to feed and nurture the roots. A strong root system offers greater resistance to pests, disease and extreme weather while promoting healthy branch and leaf growth. Incorporating scheduled fertilization into your annual tree maintenance program will help take care of this important need.
Check and maintain irrigation systems: To ensure that everything is working properly before summer comes and the rain stops.
Count on our arbor care services to keep your trees beautiful and healthy. From planting advice to disease and pest control management and tree stump removal, we provide every arbor care service you may require. Clients love our integrated approach to tree care, landscaping and irrigation maintenance.
Property owners, developers and managers across the San Jose and East Bay areas, including in Fremont, Milpitas, Mountain View, Sunnyvale, Palo Alto, Livermore, Pleasanton, Dublin and Danville depend on our comprehensive tree management services.
Call 408-453-3998 to discuss your tree care needs for spring or contact us online for a quote. Contact Petalon for certified arborist services as part of your commercial landscape management needs.