Water Saving Plans Can Result in Rebates
Roll Out Water Saving Plans that can Result in Rebates
Implement Water-Conserving Landscape Strategies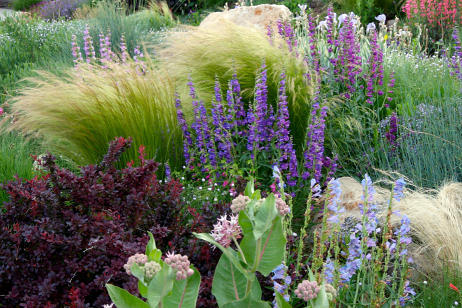 The Santa Clara Valley Authority is now offering rebates for qualified customers who submit their applications by June 30, 2022. As the weather warms up, many commercial property owners are thinking about how to spruce up their landscaping. As always, water-saving measures will typically be a big part of any landscaping strategy.
Now, however, there's a huge incentive to invest in drought-resistant plants and efficient irrigation systems. Learn more about this exciting opportunity to recover up to $50,000 for your business. With the help of award-winning landscapers at Petalon Landscape Management, Inc. you can score a win for the environment and your budget.
Who Is Eligible?
The Santa Clara Valley Authority is targeting residents and businesses, asking everyone to convert from high to low-water use landscaping. This could include lawn reduction in favor of drought-resistant plants and xeriscaping as well as retrofitting leaky, inefficient irrigation systems with high-efficiency irrigation upgrades.
You may qualify for up to $50,000 in rebates for a commercial or multi-family property (more than 4 units). Keep in mind that maximum rebates may increase for cost-sharing areas. The official deadline is June 30,2022, but funds may deplete before then, so apply as soon as possible to improve your chances of receiving a rebate.
What Are the Different Types of Rebates?
Santa Clara Valley Water Authority has four rebate categories for water conservation on commercial properties:
Landscape conversion rebate: Receive up to $2 per square foot to convert lawns to low-water-use landscaping. Petalon offers drought-friendly landscaping services to save water and help you earn a rebate.
In-line drip irrigation conversion rebate: Get reimbursement for upgrading from overhead sprinklers to in-line drip irrigation in your existing planting beds.
Irrigation equipment upgrade rebate: Receive assistance with replacing inefficient irrigation hardware with irrigation controllers, rain sensors, and other water-friendly equipment. Petalon has experienced landscape designers who plan and install efficient irrigation systems to help you qualify for the rebate and save money on water costs.
Rainwater capture rebate. Capture rainwater from existing gutters and downspouts using cisterns, rain barrels, and rain gardens.
How Can You Apply?
Thanks to the comprehensive Online Application Portal you can apply for and check the status of all rebates in one place. You can also access the following information:
Rebate program details
Steps to apply
Program requirements
Qualifying equipment or plants
You may also qualify for other subsidies and rebates. Find out more about rebate caps and crucial information to improve your chances of getting a rebate.
Petalon Landscape Management, Inc. offers drought-friendly landscaping and irrigation system installation services throughout the Santa Clara Valley. Contact us today or call 408-453-3998 to schedule a consultation on water-saving plans that can result in rebates.
Tags: drought resistant landscaping, irrigation, landscape maintenance, save water, water management