Bay-Friendly Certified Staff
Ryan Valentine, Petalon's Sr. Account Manager is now Bay-Friendly Certified
Creating and Maintaining Sustainable Landscapes Just Got Easier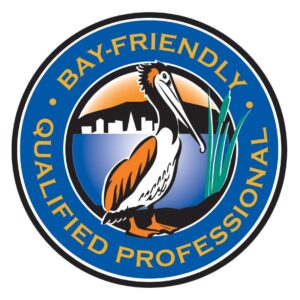 With our expertise in environmentally-friendly landscaping, we help you maintain an attractive property while lowering your water usage. Committed to learning and adopting the latest drought management techniques, Petalon is happy to announce that our Senior Account Manager, Ryan Valentine is now Bay-Friendly Certified. From storm water management to water conservation, irrigation, plant selection and care, soil health, and more, we offer a range of services to keep your commercial property looking great throughout the year.
What Does the Bay-Friendly Certification Mean?
 Based on 7 key principles, ReScape California's Bay-Friendly Training & Qualification Program offers a systematic process to creating a healthy landscape with minimal impact on the environment and natural resources. More importantly, it helps us address many of our clients' landscaping concerns such as:
Lowering water bills
Reducing risks associated with some landscaping chemicals
Complying with storm water regulations
Creating suitable habitats for bees, birds and other pollinators, as well as beneficial wildlife
With this new certification, we now have enhanced capabilities to design, build and maintain water-efficient landscaping that will achieve your conservation goals. Our flexible approach enables us to adapt what we have learned and apply it to varying client needs, including residential properties and business premises, institutional campus playgrounds, areas for growing food, city parks, and so on.
Conserve Water with Low-Maintenance Landscapes
Are you considering drought tolerant landscaping? Exploring smart irrigation systems that will help you avoid water penalties? We offer customized landscaping and irrigation solutions to meet your unique needs and budget. Many of our clients who have made the switch, enjoy significant savings and sustained curb appeal.
Count on our full-service commercial landscape management company to ensure your business location is always attractive and inviting. With our weekly gardening and seasonal flower planting programs, your property will look vibrant throughout the year.
Property owners and managers across the San Jose and East Bay areas, including in Fremont, Milpitas, Mountain View, Sunnyvale, Palo Alto, Livermore, Pleasanton, Dublin and Danville depend on our sustainable landscaping solutions and exceptional customer service.
Call 408-453-3998 to request a quote or contact our Bay-Friendly Certified team online.