Commercial Landscape Services Cupertino
Trusted Commercial Landscape Services in Cupertino
Expert Care for Turf, Trees, and Hardscaping Elements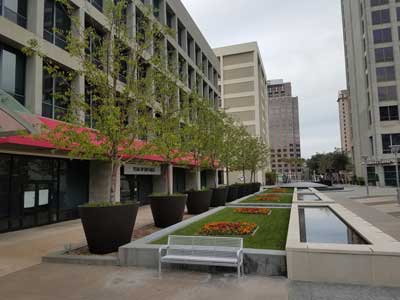 Petalon's commercial landscape services in Cupertino focus on maintaining beautiful green spaces and attractive curb appeal. From turf care, arbor care and pest management, to irrigation and drainage management and drought-resistant landscaping, we have you covered on all aspects of commercial landscaping in and around Cupertino.
Complete Suite of Commercial Landscape Services for Cupertino Properties
Maintaining a commercial property's landscape in the prestigious Cupertino area is no easy task. Each property aims to outdo the other in terms of beauty and visual appeal. Save time and money and ensure that your property stands out, by hiring Petalon's award-wining landscape management team. We work with an integrated network of specialists, including skilled landscapers, experienced hardscaping professionals, water management specialists, and ISA-certified arborists.
Here's an overview of our commercial landscape services in Cupertino:
Landscape installation and enhancements: Our experienced landscaping professionals provide thoughtful design plans, along with high quality installations. This includes turf enhancement, tree selection and planting, and creating and maintaining seasonal gardens. We can also install walkways, driveways, retaining walls, water features, sculptures, benches, and other landscape enhancements that make your outdoor spaces inviting and functional.
Turf and tree care: We create systematic and customized plans for ensuring healthy and beautiful landscapes. This includes lawn mowing, trimming, edging, weeding, aeration, thatch removal, and seasonal cleanups. Our certified arbor care experts provide timely and efficient tree care services, including pruning, fertilizing, mulching, tree pest and disease control, and tree relocation or removal.
Irrigation and drainage: Our water management specialists can help you cut down on your overall landscape management expenses. We offer expert installation, repair, and maintenance of smart irrigation systems that conserve energy, improve drainage, and reduce water wastage.
Green initiatives: We provide several specialized services as part of our green initiatives. These include:
Integrated pest management solutions that focus on reduced pesticide use, improved irrigation and watering practices, and better selection of trees and plants that thrive in specific micro-environments
Award-Winning Commercial Landscape Services in Cupertino
At Petalon Landscape Management Inc., we are passionate about helping commercial property owners and managers achieve stunning form and function for their outdoor spaces. Whether you are looking to build the landscape from scratch, or need updates and landscape renovations, count on our network of award-winning commercial landscaping contractors. We create tailor-made service plans based on your property's specific needs as well as your landscape management goals and budget.
Our team of commercial landscaping specialists cater to a wide range of corporate entities, HOAs, condominiums, retail complexes, and large estates in Cupertino and across the Santa Clara Valley.
Call 408-453-3998 or contact us online to request a quote for commercial landscape services in Cupertino.
Cupertino Commercial Landscapes are a Visual Treat
Located in Santa Clara Valley, and home to Apple's headquarters, Cupertino is the true heart and soul of Silicon Valley. Attracting a vast population of technology professionals, the city provides a highly desirable address for corporations as well as residential complexes. Besides the stunning glass and steel commercial buildings, the city of Cupertino features sprawling green spaces, tree-lined neighborhoods, and gorgeous landscapes framed by the Santa Cruz Mountain range. Commercial landscape services in Cupertino are not just about planting grass, dressing up flower beds, or maintaining smooth walkways or driveways. Property owners and managers across this area prioritize sustainable landscaping, enhanced architectural elements, and preservation of natural surroundings, all within a realistic landscape management budget.