Why Enlist Commercial Plant Health Care Services for Your Property?
Experienced Pros Keep Your Landscape Green and Healthy
Plant selection and maintenance is an important part of landscape management. Some species thrive in urban environments. Others require careful attention as they mature. When you hire Petalon Landscape Management, Inc., we proactively monitor every tree, plant, and shrub on your commercial property. From integrated pest control to fertilization to knowing when to remove plants, our team will always provide honest, expert advice to keep your landscape healthy. Our service areas for commercial plant health care in the Bay Area include San Jose, Hayward, Fremont, Morgan Hill, Gilroy, and Santa Clara.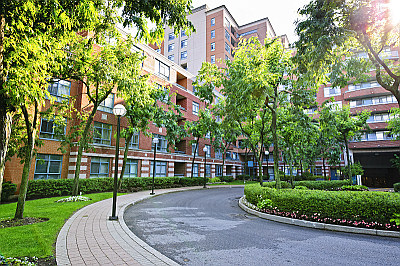 Vital Commercial Plant Health Care Services
Whether you own an apartment complex, office building, or other public space, it's important to consider what professional services can keep your plants thriving and attractive.
At Petalon Landscape Management, we offer a range of services to optimize the growth, health, and appearance of your commercial landscape. The following examples give you an idea of what to expect from our team:
Water management: Water availability varies depending on weather conditions beyond your control. However, we can install and maintain smart irrigation systems that effectively manage landscape hydration. Using electronic controllers, our systems monitor weather and soil conditions. They help ensure that your plants get the right amount of water at the perfect time of day. Reduce runoff and prevent overwatering with this advanced irrigation management technology.
Plant selection: Climate, site conditions, and seasonality all impact which plants will thrive on your commercial property. Our team will consider water availability and soil type when recommending plants and trees for your space. For example, if there's a lot of sun exposure, we may recommend planting trees to create shade along pathways. If you're near a busy street, we may recommend shrubs and bushes that will provide a buffer between passersby and building occupants.
Microclimate management: Whether it's sunny or shady, comprehensive landscape management includes knowing the microclimate of your property. Our team is familiar with local variations in temperature, rainfall, wind exposure and other factors that influence your landscape. We tailor your landscape's design and maintenance to manage your property's conditions, keeping your plants healthy and vibrant.
Pests: Some plants are susceptible to damage from insects or disease. With expert guidance, you can choose those resistant to pests in your area. Petalon's plant and tree pest control services include integrated pest management (IPM) services to protect your plants from harmful insects and diseases. Our technicians will inspect your plants and trees for signs of pest incursion regularly to avoid major issues.
Weed control: Besides being unsightly, weeds can negatively impact your landscape's health. We offer broadleaf weed control for your turf and physical weed removal in your borders and beds with our commercial plant health care services.
Fertilization: Using organic or synthetic fertilizers, our team delivers nutrients that keep grass and plants growing well. Contact us to determine if your landscape needs this rejuvenating service.
Proper trimming and tree care: Who does the pruning and trimming on your property? Hiring our team and the expertise of trained arborists is the best way to remove damaged branches and falling limbs.
Contact Petalon online for commercial plant health care services. We serve the entire Bay Area, including San Jose, Hayward, Fremont, Morgan Hill, Gilroy, and Santa Clara. Call 408-453-3998 today to schedule an appointment.