Why Plan Your Drainage Maintenance in Late Summer?
Prepare Your Landscape for the Cooler Months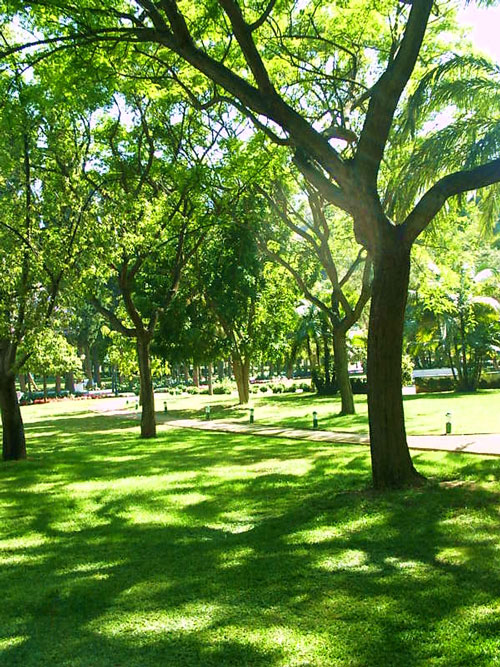 Late summer or early fall is the ideal time to book your drainage maintenance service appointment. This critical landscaping to-do is most important heading into the fall and winter months. As the weather turns cooler, the rains usually come and can flood your walkways and landscapes or wash away bark mulch and topsoil. This is also a good time to review your irrigation system for any mis-aimed sprays or broken heads. Have them fixed to prevent unnecessary and excessive water consumption.
An often-overlooked aspect, the drainage system is instrumental in protecting your commercial property from water damage and seasonal disruptions. Petalon's landscape management professionals explain how timely drainage repairs can keep water damage issues at bay and minimize your water bills.
Seasonal and Timely Maintenance for Drainage Systems
From grading problems and soil compaction, to clogged downspouts or damaged and broken drain pipes, there are a number of issues that can impact your drainage system. When left untreated, here are some of the problems that you may have to deal with:
Soggy Landscape: Standing water on your lawn and garden is not just an eye sore, it is also inconvenient for your employees and visitors to walk around the premises. Moreover, standing water is a health hazard, as it becomes a breeding ground for disease-spreading mosquitoes, bacteria and parasites.
Soil Erosion: Improper drainage can cause soil erosion in various areas of your commercial landscape. The faster the flow of water, the higher the potential damage.
Erosion near the building's foundation could lead to moisture or water leakage at the lower levels, or in severe cases, even cause the foundation to shift.
Erosion around the roots of large trees in your yard could weaken their structural integrity. A tree with weak roots is a safety hazard during storms or heavy winds.
Soil erosion may destroy your pretty flower beds. It could also wash away the bark, mulch and topsoil, especially as you head into the rainy, stormy, fall and winter months. In fact, landscape erosion could trigger changes in the existing drainage of your property, leading to more drainage issues in the future.
Scheduling a drainage maintenance appointment during late summer or early fall will allow your landscape management company to detect problems early and contain them before they pose a threat to your property. The Petalon crew addresses the following during a typical drainage service:
Prevent blockages from falling leaves or debris accumulation
Control pest problems in soggy soil in a timely manner
Remove rotting plants and clean up mossy walkways
Complete all repair work before heading into the cooler months that bring inclement weather
We also review your irrigation system for any broken sprinkler heads, misaligned sprays, or leaks in the nozzles, hoses, valves, or other components of the system.
At Petalon Landscape Management Inc., we offer an integrated approach to drainage repairs and irrigation management, which can help you significantly lower your property maintenance expenses. Our knowledgeable and experienced team offers prompt and affordable services to keep your landscape healthy, safe and attractive.
From municipalities and HOA communities, to corporate campuses and shopping centers, we serve a range of commercial clients throughout the Bay Area.
Call 408-453-3998 to book a late summer drainage maintenance service. You can also contact us online to request a quote for our commercial landscaping services.
Tags: landscaping changes, maintenance, plant health, save water