Selecting a Hardscape Contractor in the Bay Area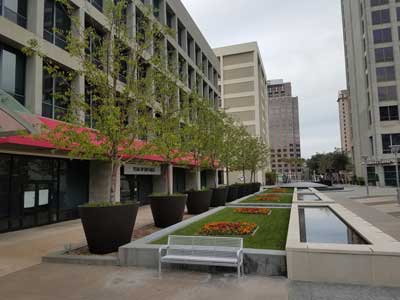 When it's time to select a hardscape contractor in the Bay Area, consider these factors:
The type of project. Not every contractor performs the same work. Try to find one that excels at the kind of hardscape you want. For instance, massive hillside retaining walls require a level of expertise that could be different from building a simple walkway.
Do some research. As with any installation or renovation project, it's best to take the time to research potential contractors. A contractor that has been in business for a long time is preferable to one that is just starting out. A reputable hardscape contractor should be licensed, bonded and insured. Business owners who have recently experienced a hardscape project are valuable resources. Ask them about their contractor and for a referral. Online sites Yelp and Angie's List provide independent ratings and reviews of commercial contractors in your area.
Investigate the quality of work. Check out completed projects in person for workmanship and attention to detail. An established contractor should provide names of former customers. Signs that indicate that professionals did a project include adequate drainage, walls that are level with clean mortar lines, and structures such as pergolas that are sturdy.
We Are Full-Service Hardscape Contractors
Petalon Landscape Management began operating in the Bay Area nearly 40 years ago. We undertake many projects on referral by satisfied customers who know our commitment to building quality hardscapes with durable materials.
Petalon's customers include HOAs of all sizes, retail locations, corporate campuses, developers, property managers, and public entities in the cities of Fremont, Mountain View, Walnut Creek, Danville, Santa Clara, Sunnyvale, San Jose, Palo Alto, Livermore, and Pleasanton.
As a full-service commercial hardscape and softscape contractor, Petalon simplifies even the most complex projects for our customers. We do it all – irrigation overhauls, driveways, retaining walls, spacious patios and walkways, landscape renovations and maintenance. We also offer fully credentialed arbor care services.
Select a hardscape contractor in the Bay Area with a record of success in commercial projects – Petalon Landscape Management. Call 408-453-3998 today to speak to one of our representatives.