2021 Water Management Ideas for Commercial Landscapes
Consider New Water Management Ideas for Your Commercial Landscapes in 2021
Conserve Water Without Sacrificing the Beauty of Your Bay Area Property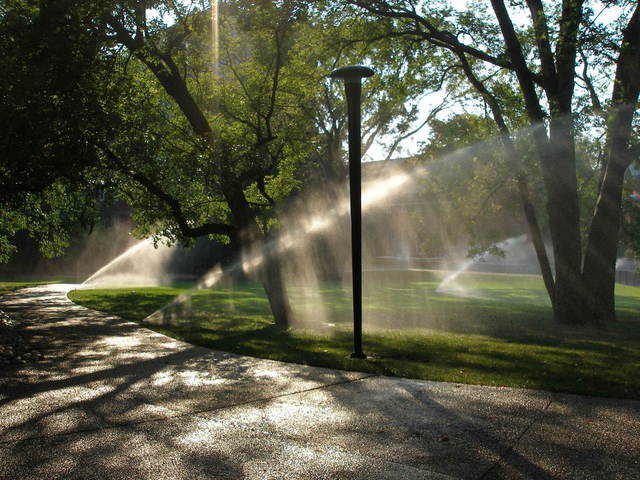 Petalon Landscape Management Inc. can help you integrate new water management ideas for your commercial property in the Bay Area. From ground cover selection to irrigation upgrades that include weather tracking, remote control, and electronic monitoring, our crews will help keep your green spaces lush without wasting precious water.
Whenever possible, we incorporate drought-tolerant landscape designs and encourage our commercial clients to prioritize water conservation for more efficient lawn and landscape care. Petalon's water conservation experts offer the following tips on how to get serious about water smart landscaping in 2021.
Tips to Make Your Bay Area Commercial Landscape Water-Efficient
Save water and introduce exciting new elements into the landscaping of your corporate, institutional, commercial, or large estate property. Follow these tips:
Use mulch to retain moisture: Mulch acts as a barrier, trapping moisture in the soil. It prevents water from evaporating in the Bay Area's dry climate. Natural mulch also provides vital nutrients to your soil and freshens your outside areas.
Replace high-maintenance grass with water-conserving plants. Ground cover, meadow flowers, and low-maintenance oak trees provide areas of visual interest without requiring a lot of water. These plants can restore the soil and attract butterflies and birds while creating unique landscaping opportunities.
Introduce conservation-friendly water features. People are undeniably drawn to water, which can mask background noise, create soothing sounds, and provide relief to birds, butterflies, and bees. You can install features that have moving water or mimic ponds, streams, and fountains. Here are a few ideas to get you started:

Small containers converted to water features

Sculptures with low-maintenance water features

Ponds with floating lilies that reduce evaporation

Dry stream bed that gives the illusion of moving water

Zen gardens that use little to no water
When you put water features in shaded areas, it significantly reduces evaporation.
Conserve Water in Your Irrigation System
You can also save water and reduce costs through smart irrigation upgrades. This may involve making changes to your current watering schedules or replacing your system with a more efficient one. When you hire Petalon Landscape Management, we'll inspect your irrigation system, recommend and make changes such as:
Repairing or replacing broken pipes and fittings
Moving sprinklers for balanced water delivery
Optimizing the sprinkler spray pattern for better coverage of plants
Adjusting the radius nozzle in particular areas to conserve water
Raising sprinklers blocked by plants or objects
Performing regular inspections to ensure effective irrigation throughout the year
Consider investing in automated irrigation systems that track humidity, temperature, weather, and other factors affecting watering needs. Ask our lawn service pros about irrigation controllers that automate watering schedules and reduce water runoff. Our top landscape management team serves commercial properties across the Bay Area, including San Francisco, Pleasanton, Redwood City, San Jose, Walnut Creek, and Hayward, CA.
For more water management ideas for commercial landscapes in 2021, contact us online or call 408-453-3998 to schedule a consultation.
Tags: drought tolerant landscape, irrigation, landscape design ideas, water management