Smart Irrigation Controllers for Commercial Landscapes
Invest in Smart Irrigation Controllers for Your Commercial Landscapes
Cost-Friendly Ways to Enjoy Beautiful Lawns and Healthy Trees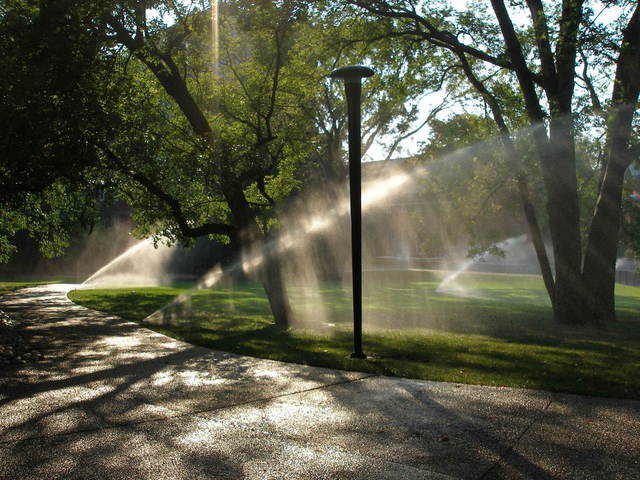 Installing smart irrigation controllers for commercial landscapes has many advantages. From enhancing the health and beauty of your landscape, to reducing water waste and preventing damage to your property, your investment will reap numerous benefits. Petalon's water management experts explain the key features of smart irrigation controllers, and how they can help you achieve a water-wise commercial landscape.
Features of Smart Irrigation Controllers
HOAs, school campuses, municipalities, shopping centers, corporate complexes, and large commercial properties spend thousands of dollars in maintaining attractive landscapes. However, Bay Area commercial properties face the added challenges of rising water costs and chronic drought conditions. Property owners or managers are always looking for solutions to achieve the delicate balance between conserving water, reducing landscaping costs, and keeping the property green. This is where smart irrigation controllers come in.
These automated irrigation systems measure and monitor a number of variables, such as:
Weather conditions, including temperature, humidity, and precipitation
Soil moisture and evaporation
Plant/tree types and watering requirements
Based on these readings and actual site conditions, smart irrigation controllers intelligently calibrate the watering schedule to cut your costs and reduce waste. Since these systems come with remote-controllable apps, you can manage and adjust the settings anytime and from anywhere. All you need is an internet-connected device, such as a cell phone or tablet.
Advantages of Switching to a Smart Irrigation System
Save money and reduce water waste: According to the Environmental Protection Agency (EPA), most landscapes lose 50% of irrigation water due to wind, evaporation, runoff, and inefficient systems or irrigation methods. A smart irrigation controller:

Identifies the micro-climate of your property and makes site-specific watering adjustments.
Automatically shuts off water supply in the event of pipe breaks or leaks.
With reduced water usage, you can get ahead of the cost curve and save thousands of dollars per year in your commercial landscaping budget.
Maintain healthy and beautiful landscapes: One of the primary causes of landscape damage is overwatering. Smart irrigation controllers identify and adjust watering levels based on the climate, soil conditions and watering needs of your landscape, ensuring that your lawns, plants and trees remain healthy and beautiful.
Reduce hardscape loss or damage: Excessive watering or surface runoff can cause cracks in your hardscape elements, such as the retaining walls, pathways, patios, driveways, and sidewalks. Smart irrigation controllers not only control the watering levels, but also ensure the accuracy of water placement. With less wear and tear, you will save a lot of time, effort and money that would otherwise go into expensive hardscape repairs.
Remain compliant with water conservation laws: Smart irrigation controllers come with user-friendly apps that let you easily adjust the watering levels and schedules. With greater control and intelligent watering suggestions, you can remain compliant with applicable regulations, and avoid fines or other punitive consequences.
Installing rain gauges and master valves with flow meters, upgrading to rotary sprinkler heads, and preparing and tracking water budgets are all effective irrigation management techniques. However, investing in smart irrigation controller systems can take your water conservation goals to an entirely new level of efficiency.
Upgrade to Smart Irrigation Systems for Your Bay Area Commercial Property
Smart irrigation controller systems are a key component of a comprehensive water management strategy for commercial landscapes in the Bay Area. Petalon's irrigation management experts work closely with our integrated network of landscapers, arborists, and hardscape specialists to provide a number of drought-tolerant solutions. From drip irrigation, grading and drainage, and turf reduction, to water-smart planting, attractive hardscaping, and deep root fertilization, we address a diverse range of commercial landscape maintenance and water consumption requirements.
Property owners and managers across the Bay Area count on us for cost-effective irrigation management solutions. We serve a wide range of commercial properties in Dublin, Redwood City, San Ramon, San Mateo, Cupertino, Livermore, and Hayward, CA.
Explore the various smart irrigation controller systems to find the type that best meets your commercial property's water management goals and budget. Call 408-453-3998 or contact us online to request a quote.
Tags: irrigation, maintenance, plant health, save water