Fall and Winter Plant Replacements
Fall and Winter Plant Replacements for Commercial Landscapes
Maintain Healthy and Beautiful Green Spaces All Year Round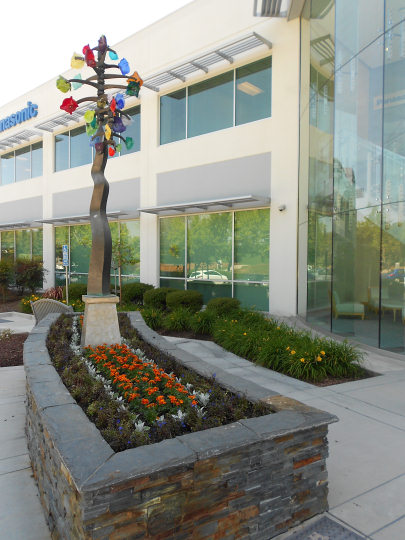 A fall and winter plant replacement service is an essential step in maintaining your Bay Area commercial landscape. Restoring the summer weary plants and adding winter hardy varieties can help you enjoy attractive and healthy green spaces throughout the year. Petalon's experts explain the many benefits of reviewing your commercial landscape in the fall.
Seasonal Services for Your Bay Area Commercial Landscapes
A periodic review of the trees and plants in your commercial property landscape involves three key aspects.
Restoring dull, lifeless trees and plants: Whether it is an occasional heat wave or prolonged drought conditions, summer can take a toll on the plants, shrubs, and trees in your commercial landscape. While some species may not survive the extreme heat, others may become dull and unattractive. During a planned review, ISA-certified arborists can take a closer look at your landscaping, identify the problem areas, and take necessary corrective steps to:

Nurture the impacted trees and plants back to health through fertilizer applications and other treatments
Clean up the seasonal gardens and carry out necessary lawn care to make your landscape winter-ready
Conduct seasonal arbor care activities, including pruning, tree pest control, fertilizing, and mulching
Remove the weak trees if their damage is irreversible
Plan landscape enhancements, renovations, or updates: As your landscape matures, the shade conditions and watering needs of certain areas of your grounds may change. Similarly, an increase in foot traffic or vehicular traffic may necessitate enhancements in the hardscaping elements on your property. A planned fall and winter plant replacement service is the best way for your commercial landscaping specialists to

Take stock of the tree and plant inventory and their growing conditions
Replace part of the existing landscape with hardy fall and winter plants, and relocate trees, where necessary
Carry out turf enhancements on extended areas of the property, or promote your green goals by reducing and replacing the turf with water-wise plants or hardscapes
Upgrade the irrigation and drainage systems: A fall and winter plant replacement appointment with your landscaping specialists is the ideal time for undertaking water management upgrades. Adding smart controllers, moving to drip irrigation, grading for better drainage and erosion control, and routine mid-season irrigation system tune ups will help you save on your landscape management expenses.
Comprehensive Commercial Landscaping Services in the Bay Area
At Petalon Landscape Management Inc., we believe fall is a great time to review, plan, and budget the maintenance and upgrades to your commercial landscape. Our network of ISA-certified arborists, lawn care specialists, hardscaping professionals, and irrigation management experts offer accurate assessments and plans to address the current and future landscaping needs of your property. Take advantage of our comprehensive services for design, installation, enhancement, and maintenance of your commercial landscapes.
Commercial property owners and managers across the Bay Area, from Gilroy to San Jose, up the peninsula to Palo Alto and Burlingame, and East Bay through Fremont, Dublin, Danville and Livermore count on us for their fall and winter plant replacements, as well as a range of other landscape management activities.
Need to schedule an appointment for fall and winter plant replacements? Call 408-453-3998 or contact us online.
Tags: enhancements, renovations, seasonal planting, updates