Now's the Time for Drainage Maintenance and Repairs
Enjoy a Safe and Winter-Ready Commercial Landscape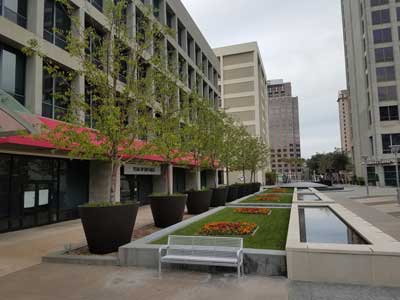 With winter fast approaching in Northern California, now's the ideal time to book your appointments for drainage maintenance or repairs. Unclogging the drains will ensure that your commercial or retail property is ready for the cold, wet months ahead. Petalon's landscape management experts advise that this critical step will go a long way in ensuring safe, winter-ready outdoor spaces.
Clean Drains Prevent Seasonal Disruptions and Costly Repairs
The beautiful yellow, red and orange hues offer a picturesque look to your commercial property landscape in the fall. However, as winter approaches:
The falling leaves may clog the drains and cause messy puddles.
The fallen leaves lying around your property may turn into wet and slippery surfaces.
The backed up water on your property could seep into crevices, causing leaky basements or wet walls.
Accumulation of excess water on your landscape could damage certain trees and plants, and make your lawns breeding grounds for disease-spreading organisms.
Avoid a soggy landscape that can cause slip-and-fall accidents or health hazards for the visitors, patrons, and occupants of your premises. Take the right steps now to steer clear of expensive water damage repairs. In order to prevent seasonal disruptions and costly repairs, now's the ideal time to schedule a drainage maintenance for your commercial property.
Petalon's Integrated Drainage and Irrigation Management Services
At Petalon, we follow a unified approach to drainage and irrigation management in order to reduce your property maintenance expenses. Our skilled and knowledgeable crew addresses several aspects during a routine drainage service. We will:
Clear blockages caused by fallen leaves or other seasonal debris
Identify any pest problems caused by soggy soil, and implement appropriate pest control measures
Clean up access ways and remove rotting plants
Fix any leaks or damage in the drainage system
Inspect the irrigation system to identify and repair any broken or damaged components
We serve a large base of commercial clients across the Bay Area, including Cupertino, Hayward, San Mateo, Walnut Creek, Tri-Valley area, Foster City, and Dublin, CA. Property owners and managers take advantage of our prompt and affordable drainage installation and management services to keep their landscapes safe, attractive and winter-ready.
Drainage management is part of Petalon's comprehensive landscape maintenance services. Call us at 408-453-3998 or contact us online to discuss ways to improve your commercial landscape.
Tags: customer service, drainage, maintenance, safety