The Importance of Tree Selection in Landscaping
How to Choose the Right Trees in Northern California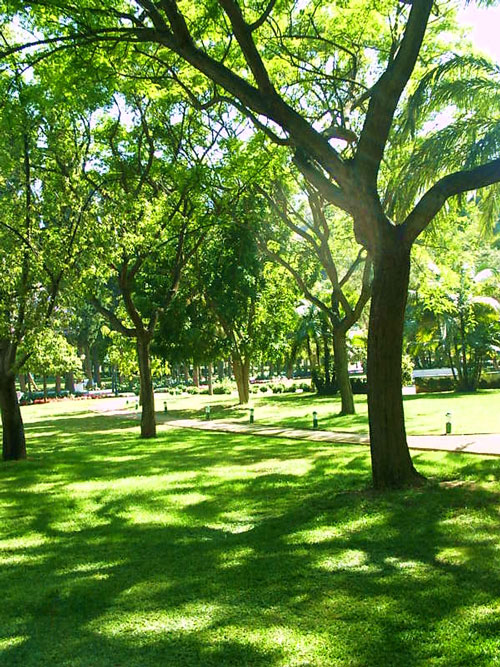 As you look out on your commercial property in the Bay Area, do you notice a lack of shade? How do you go about picking the right trees to add shade and beauty without needing a ton of attention? Petalon Landscape Management Inc. has walked many commercial clients through the importance of tree selection in commercial landscaping design. Let us help you select unique, drought tolerant trees, as well as ornamental and fruit trees your visitors and employees will love.
Why Consider Drought Tolerant Trees?
Drought-resistant trees and shrubs help you conserve water without sacrificing shade and serenity. Petalon offers drought-resistant commercial landscaping services for your Bay Area commercial property.
Selecting Shade Trees for Your Commercial Landscape
Shade trees add beauty to any commercial property. Graceful, arching limbs cast a cooling shade over walkways and lawns, making them excellent additions to your commercial landscape plan.
Here are examples of hardy shade trees to consider for your commercial campus:
Laurus nobilis 'Saratoga' is a great addition to your Northern California landscape. It's wind-resistant and has unique waxy leaves. This drought-tolerant species develops dense foliage for screening and shade.
Lagunaria patersonii is a fast-growing evergreen tree that can reach 30 feet in height. From summer throughout fall, it bears lovely pink star-shaped flowers.
Acer rubrum 'Armstrong' is a hardy city tree featuring a conical shape suitable for tight urban spaces. This deciduous maple tree reaches 45 feet and grows quickly in full sun.
Challenges with Growing Fruit Trees and Other Ornamentals in Northern California
Many fruit trees and ornamentals can beautify your campus, retail property, or commercial landscape. However, they aren't always ideal for commercial spaces in Northern California. Here are some of the challenges with choosing fruiting trees and shrubs:
Messiness and wasps: Trees that produce fruit can make a mess on your property when the fruit ripens and falls and can also attract wasps, which your visitors or employees might not enjoy.
Maintenance requirements: Fruit trees and ornamentals tend to be more delicate than shade trees and evergreens. This might include susceptibility to pests and diseases that you will need to manage to keep your fancy trees healthy.
Time-consuming: Keeping fruit trees properly pruned is crucial to maintaining an attractive shape and for fruit production.
If the unique look that you have in mind for your commercial landscaping involves fruit and ornamental trees, you can rely on our tree specialists to keep them healthy and flourishing. We can also recommend flowering trees and shrubs that don't produce fruit, to avoid the associated problems.
Tree Maintenance Services
Petalon's commercial tree services offer complete care from planting through maintenance. You can rely on our team to fertilize, mulch, trim, and prune the trees on your hospital campus, retail space, sprawling estate, or other commercial property across the entire SF Bay Area including Pleasanton, San Jose Walnut Creek, Redwood City and Haywood.
We also offer a full suite of plant health care services including water management, deep fertilization, and disease and pest control.
For more information on the importance of tree selection in landscaping decisions, contact a Petalon tree specialist today. Contact us online or call 408-453-3998 for a free consultation.
Tags: landscaping, selection, tree health, trees